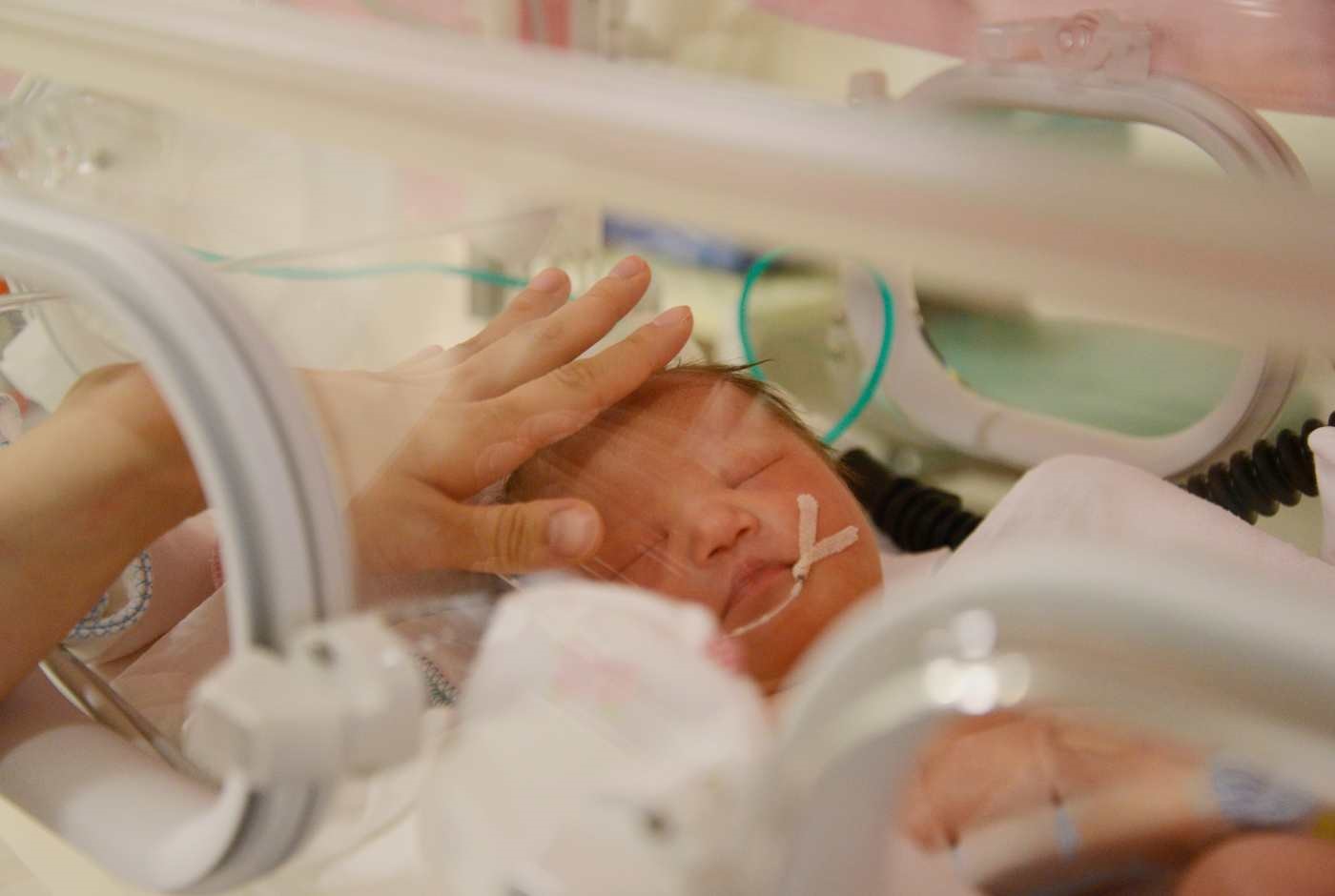 Occupational Therapist Makes Big Impact on NICU Babies and Their Families
Mary Beth Lohman is an OTR who is known as "The Fairy Godmother of the NICU." Her mission is to create a world where each baby feels safe and nurtured in everything they do.
Published:

September 6, 2023

Categories: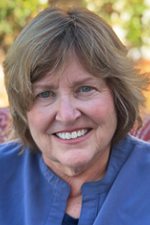 Mary Beth Lohman, OTR/L, CNT, CIMI, TICC
Lead Pediatric/Neonatal Therapist, Summerlin Hospital Medical Center
Location: Nevada
Certified in 1982
The Fairy Godmother of the NICU
Mary Beth Lohman is an OTR from Nevada who has 41 years of experience in a variety of practice settings. However, for the past 20 years, she has worked at Summerlin Hospital caring for and nurturing babies in the neonatal intensive care unit (NICU). It is here where she has made the greatest impact of her career.
Mary Beth supports babies and parents in co-occupations like feeding and eating, playing, bathing, sleeping, and self-soothing. She prioritizes family education and creates opportunities for families to feel more connected, confident, and comfortable with their babies. Some examples of her work include guiding parents and babies in swaddle bathing, which offers a positive sensory and bonding experience; encouraging parents to document early milestones, such as photographing their babies' first bath, which parents appreciate as they are often overwhelmed by the NICU environment and forget to cherish these moments; teaching postpartum parents how to dress newborns who have clavicle fractures or feed babies with low tone; and helping individuals with high risk pregnancies who are on bedrest maintain their current parent and worker roles by empowering them through occupational engagement and preparing them for a possible NICU stay.
Mary Beth recognized the benefits of skin-to-skin contact for babies and advocated for kangaroo care in the NICU. This method involves holding the infant in an upright prone position, skin-to-skin, on the parent's chest. Clothing or blankets wrapped around the infant provide a secure kangaroo-like pouch. Kangaroo care is now performed daily in the NICU, and the power of this connection is celebrated annually during Kangaroo Care Day.
Mary Beth's work extends beyond families' inpatient NICU stays. To ease the transition process from the NICU to home, Mary Beth introduces families to their outpatient therapy team so that there is some familiarity with these new providers. She continues to support the families outside of the NICU by developing monthly infant massage instruction classes and a NICU graduate playgroup so that parents have a space where they can continue to learn and receive social support.
Mary Beth honors the role of NICU families and does everything she can to increase their confidence with their new little one.
"I have personally observed families come together and rally around small patients that struggle in the delicate, early hours of life, because of Mary Beth. She harnesses a combination of evidence-based practice, experience, and advocacy. She protects the bond between mother and child that can sometimes be threatened by the sterileness of the intensive care unit setting.

With Mary Beth's guidance and teaching, I have learned not just 'what an occupational therapist does.' I have fully learned how to 'be an occupational therapist'"

Kaitlin Ploeger, OTD, OTR/L, BCP

Assistant Professor and Occupational Therapist

Department of Brain Health, University of Nevada, Las Vegas
An Advocate for Little Ones Without a Voice
Mary Beth's work with babies goes beyond the NICU. She leads the Infant-Driven Feeding Program (IDF) at Summerlin Hospital, which is an evidence-based approach to feeding babies. The program uses consistent team documentation and communication to systematically assess a baby's readiness to feed, the quality of feeds, and what support is needed. The goal is to create a nurturing and safe feeding experience where the infant takes the lead. Mary Beth has trained numerous medical and therapy teams on the IDF program, preparing learning materials in different formats so that all types of learners can understand the information provided.
"As is the nature of the work in healthcare, Mary Beth has had her fair share of frustration with resistance to change; however, her fierce commitment to excellence for those she serves enables her to transform perceived barriers into innovative and creative ideas and strategies that improve the status quo and ensure the delivery of high-quality care. Mary Beth's visionary approach to her clinical practice, supported by her passion for education and excellence, sets her apart and distinguishes her as a true leader within the discipline of occupational therapy and healthcare at large."

Mary Coughlin, MS-NNP, RNC-E
Mary Beth is keen to spot opportunities to decrease stress for babies during routine occupations and special procedures. The system that she developed for retinopathy of prematurity (ROP) exams exemplifies this. Through this system, babies are comforted ahead of the procedure by parents, if they are available, or by trained staff. This has resulted in babies' improved vitals, shorter exam durations, and parents feeling better prepared for future procedures.
Committed to Growth for All
In addition to being an OTR, Mary Beth is a certified neonatal therapist, a certified infant massage instructor, and a Trauma Informed Professional through the Caring Essentials Collaborative, which serves to lessen the physiological and neurodevelopmental effects of neonatal abstinence syndrome. She stays current with best practices related to neonatal abstinence syndrome and infants born with THC exposure. She approaches these babies and their parents with a trauma-informed lens, creates a safe space to discuss the effects of substance use, and guides parents in feeding and regulating their babies.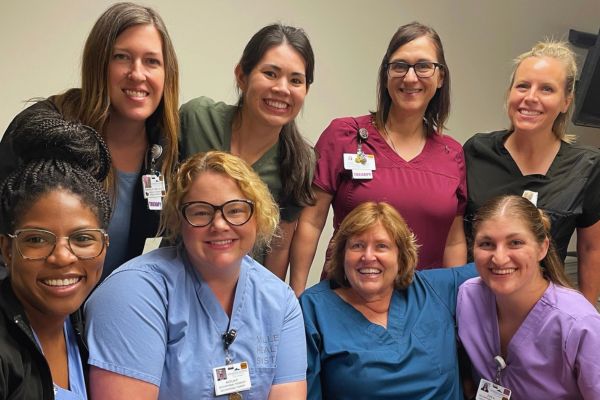 Mary Beth is determined to grow the confidence and skills of parents, practitioners, nurses, doctors, and volunteers in the NICU. As the lead pediatric therapist at Summerlin Hospital, she models the routines that she has built as a lifelong learner and uses her expertise to improve the interdisciplinary team in developmental and neuroprotective care. She ensures all practitioners demonstrate competence and compassion and makes herself available to anyone in need of clinical mentorship. She constantly shares training opportunities and builds in weekly time to discuss evidence-based research.
"She holds her team to high standards and is our cheerleader in bettering ourselves as practitioners and people."

Paula Cook, OTD, OTR/L

Mary Beth's Colleague and Award Nominator
August 17, 2023
Congratulations to this year's winners! We are inspired by your exceptional work.
August 17, 2022
Congratulations to this year's winners! We are inspired by your exceptional work.
August 30, 2021
The Innovation and Impact Award winners have demonstrated actions that truly support NBCOT's mission of serving the public interest by advancing client care and professional practice.